6:10
<Visiting Jackie Chan>

J:"Nihao" How are you?
D:Nice to meet you.
J:I just saw you on the TV last night.
D:Thank you. It's an honor to meet you.
J:Thank you Thank you
D:I was thinking what I want to say to you just before I came here. But now, I am too nervous, so I forgot everything about it.
J:Don't be nervous! I am juuuust a regular person. Relax.
D:I have a story when I was a little boy. I have bought a DVD. It was Jackie's movie and you were much younger. There was Jackie's name in Russian on the side of the movie title.
My father and I bought it so happily. But Jackie was not a lead actor in this movie because he was too young to be. I cried so hard. I can tell my friends I met Jackie Chan!
J:You sing sooo well. You are good! I wish I could have high note like him.

D:This is Dombra, Kazakh instrumental.
Play【Alkisa】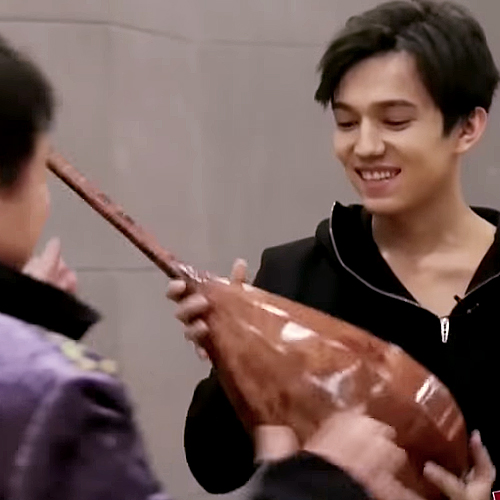 J:How old are you?
D:22
J:Wow, you so old! (It's kidding!)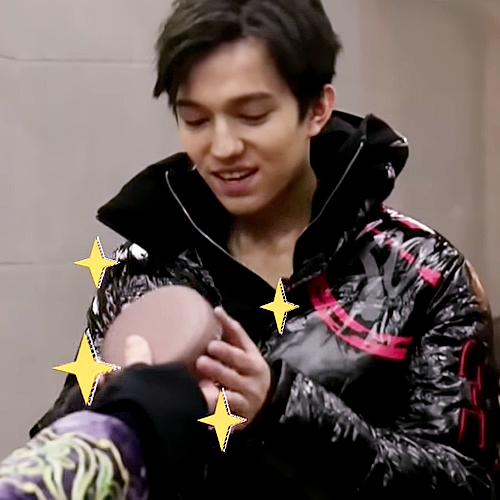 (showing the gift) This is my logo, made for me. It can connect to Bluetooth and you can listen music.
D:I am super happy! We watched your new movie. It was great. It is surprising that you (action) did what I, 22 years old, cannot do. You are very young like a boy even though you are over 60.
J:People are different. Your strength is singing. There are not so many people who can sing very well like you. People can sing even they are 80, but my business is not allowed to do so. That's why I switched the job to sing as you already saw it. Please say hello to my fans in Kazakhstan. Come to China often!
D:Since you just mentioned about our country, so I would like to sing a Kazakh folk song for you. Expressing my respect for you.【Daididau】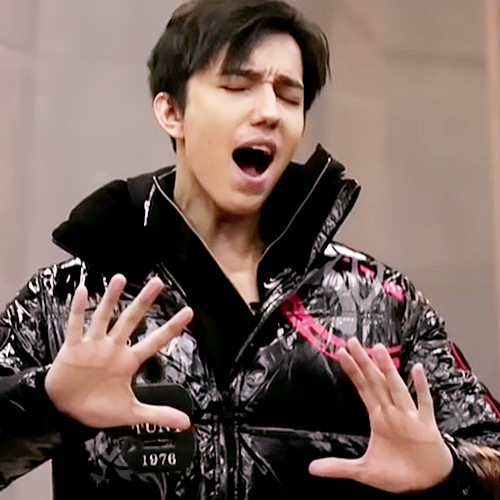 J:Woooow! You should keep your job (singing)!
Please practice my songs when you get back to your country.
D:Sure!

You danced in your new movie.<Dancing with Jackie>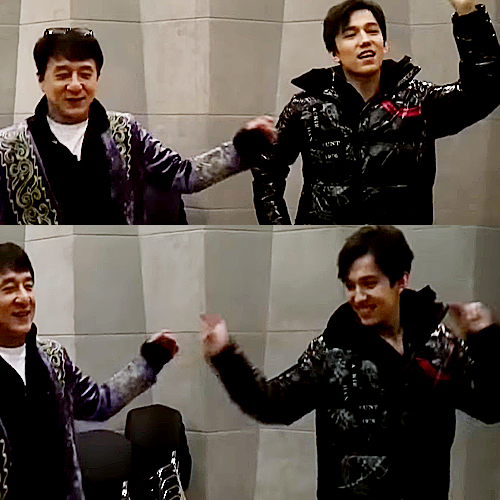 D:This movement is like Kazakh dance.
J:Really? It's called "changing a bulb" in India. Have you danced before?
D:No.
J:Singing, dancing, playing instrumental, song arrangement and composing, it's better do everything for you.
I was just an actor in a beginning. Later I do direction, editing and so on. now.
D:Understand I wish all people would love your new movie and it gets a good box office rating.
J:The movies have both good and bad. I appreciate my fans who have been supporting me.
The important thing for me is that making good films let all movie lovers watch them.This theory is same as singing. I don't want to make same kind of movies on and on. That's why I have made many kinds of movies.It's like there are happy songs and sad songs. I made happy movies and also serious movies. many kinds The song you just sang made us "wow", but people are get used to listen and get bored if you sing same kind of songs on and on.That's not good. We have to have various styles.
D:Of course.
J:He is still young. Do your best!
D:Thank you!Wow I'm soooo happy!!
↓  Join our facebook group!