Dimash紹介フジジテレビ系列【

ノンストップ!

】
"NONSTOP!" by Fuji TV (Fuji Television Network)
"NONSTOP!" is a Japanese entertainment programme which introduces information about "what everyone really wants to know" and "what everyone is interested in".
Dimash was interviewed on June 3 in this program.
↓ It was also published in Dimash News.
 Below are the English, Russian and Kazakh translations.
Russian and Kazakh are translated by DimashTeam.
↓【ENGLISH】
※ ↓ translation of the beginning part before his interview
Who is this handsome singer which has the world's attention and overwhelming voice?
Japan's largest Jazz festival, the two days event took place at Tokyo Jazz Festival +plus Live stream.
Dimash was appeared among .
This year, it was held in a live stream format what artists perform from their own homes and studios.
Over 120,000 people in the world had watched this event.
Among with those famous singers such like Ayaka Hirahara, Hiromi Uehara and more, Dimash showed his remarkable vocal which is freely uses his high tone that penetrates through the air and the low tone that resonates through the body. .. ..
Unbelievable voice, amazing songs, and also good-looking!
This synergistic effect is the best to grabbed people's heart!
He has a vocal range of more than 6 octaves and has a sweet mask and height of 191 cm.
He often singing in English, Chinese and Russian, too.
In addition, he can sing with over 10 languages, including French, Italian, and German.
His concert tickets are sold out immediately and had successful concert tours in Europe and the United States.
"Non-Stop" can't take our eyes off him.
"Non-Stop" requested him an online interview, and he kindly responded.
↓ the interview
Dimash: It's difficult to introduce myself in Japanese. .. "HAJIMEMASHITE DIMASHDESU"
His name is Dimash''', 26 years old from Kazakhstan.
Active as a singer who sings various genres of music based on classical and Kazakh traditional music.
Q: Did you sing in such a wide range from the beginning?
D: This singing voice is thankful given to me by God, and to my parents and friends who supported me being as a singer.
Dimash, who never forgets to thank the people around him is beautiful not only in his face and voice, but also in his heart.
Q: When did you decide to become a singer?
D: Believe it or not, I had only dreamed of becoming a singer since I was little.
My parents were also involved in the music field, so music was very close to me all my life. .. So I think I had a deep love for music since I was little. ‥
Dimash, who pursued the path of nature and music under the influence of his parents, said he studied to sing in over 10 languages ​​in order to play an active role in the world.
And there are other reasons to be active in the world.
Sometimes I have been refraining for more than 10 years so as not to damage my vocal cord of 6 octaves or more.
D: There are a few things I take care myself daily to maintain my singing voice. I haven't been drinking or eating cold water or ice cream for more than 10 years.
Before the concert, I try not to talk.
Sometimes I don't talk all day long to stabilize my voice even when there are no concerts.
-He is not making a voice as much as possible until 2 hours before the live performance, this is the reason why he can show this miracle singing voice.
And the world-famous superstar who was fascinated by his miracle voice supported his success.
Jackie Chan highly appreciated his voice and pushed his back in anticipation of his future success.
Di was invited to his home and assigned to sing for his new movie.
The first meeting with Jackie, it was when Dimash was participated on a Chinese music program three years ago and he heard Di's singing, he was impressed by him and he invited to the studio. ↓
D: Jackie gave me warm welcoming and treat me as his little brother.
And he also brought a souvenir for me.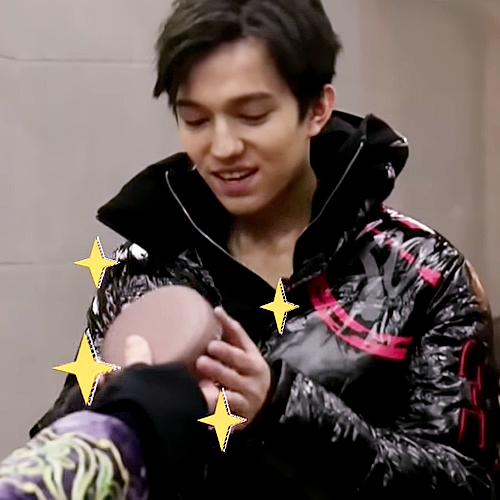 Since my whole family, including myself, were big Jackie's fan, I couldn't stop pounding when I first met.
"After that, their relationship continue and he was sing for the new movie starring Jackie.

What is Di's future goal?
D: Actually, my world tour has been postponed due to the pandemic of COVID-19.
I want to continue an unfinished concert tour safely. And in Japan, I hope I will able to sing at concerts and some TV programs in near future!
Dimash mo nonstop! Arigato!

Harry was doing remote intewview during Tokyo Jazz online event. 
Harry: Dimash is just like Disney prince.
He is not only handsome and tall but very gentle and so talented in many ways.
I can see the vision that he will be perform with big artists in future for sure
So we really have to follow his success!
Dimash have influenced by 2 Japanese.
One is Mr. Koji Tmamaki who is the original singer of Late Autumn which is Dimash sang Chinese version of the song.
And the other is Mr. Nobuhiko Takada as he was watching the wrestling match on TV in Kazakhstan. And he is the one reason Dimash to be interest in Japan.
Dimash was telling me that he is looking forward to eat Yakiniku(Japanese BBQ) when he will visiting Japan.
↓【Russian/русский】
※Translation with the help of the Dimash team
Димаш: Очень сложно представляться на японском, но… «Hajimemashite! Dimash-desu!» (Приятно познакомиться, меня зовут Димаш!)
В: Вы всегда пели в таком широком диапазоне?
Димаш: За этот поющий голос, данный мне, как сокровище, Богом, я благодарен моим родителям и друзьям, которые всегда поддерживали меня, как певца.
«В этом весь Димаш, который никогда не забывает благодарить людей вокруг него. Он не только красив своим лицом и голосом, но и сердцем».
В: Когда Вы решили стать певцом?
Димаш: Хотите верьте, хотите нет, но я мечтал стать певцом еще с самого раннего детства. Мои родители так же являются музыкантами, поэтому музыка всегда была очень близка мне.
Димаш: Есть несколько вещей, о которых я забочусь каждый день, чтобы сохранить свой поющий голос. Например, я не пил холодную воду и ел мороженое около 10 лет. А перед концертами я стараюсь много не говорить. Иногда я не разговариваю весь день, чтобы стабилизировать свой голос, даже если концертов нет.
«Трепетная забота о своем голосе, и не использование его в течение двух часов до концерта, и является причиной, как Димаш может демонстрировать такое чудесное пение…
И успех Димаша поддержал всемирно известная звезда Джеки Чан.
Джеки Чан пригласил Димаша к себе домой, а также предложил спеть ему в его новом фильме. Это было 3 года назад, когда Димаш участвовал в китайской музыкальной программе. Джеки, услышав голос Димаша, был очень впечатлен и тут же пригласил молодого исполнителя в свою студию».
Димаш: Встреча прошла очень тепло, Джеки встретил меня, как своего младшего брата, и подарил мне сувенир. Из-за того, что я и моя семья являемся его фанатами, я никак не мог унять внутреннюю дрожь, когда впервые увидел его.
«После этого он принял участие в фильме Джеки, спев к нему саудтрек. Какие у Димаша планы на будущее?»
Димаш: Как Вы знаете, мировое турне «Arnau» было отложено из-за пандемии COVID-19. Сейчас, в первую очередь, я хочу благополучно завершить свой незаконченный концертный тур. А также я надеюсь, что смогу петь на концертах и некоторых телевизионных программах Японии.
"Dimash mo nonstop! Arigato!"
※Translated by DimashTeam.
↓【Kazakh/Қазақ】
※Translation with the help of the Dimash team
Димаш: Жапон тілінде сәлемдесу қиын, дегенмен... «Hajimemashite! Dimash-desu!» (Танысқаныма қуаныштымын, есімім Димаш!)
В: Сіз әрдайым осындай кең диапазонда ән айтасыз ба?
Димаш: Құдайдың маған берген қазына іспетті осы дауысы үшін әнші ретінде әрдайым қолдау білдіретін ата-анам мен достарыма алғыс білдіремін.
«Димаштың болмысы осындай, үнемі айналасындағы жандарға алғыс айтып жүреді. Оның келбеті мен дауысы ғана емес, жаны да сұлу».
В: Сіз қашан әнші боламын деп шештіңіз?
Димаш: Сенсеңіз де, сенбесеңіз де, мен бала кезімнен әнші болуды армандадым. Менің ата-анам да музыканттар, сондықтан музыка маған өте жақын болды.

Димаш: Ән айтатын дауысымды сақтау үшін күнделікті бірнеше ережені орындаймын. Мәселен, 10 жылға жуық уақыт салқын су ішпедім және балмұздақ жемедім. Ал, концерт алдында сөйлемеуге тырысамын. Дауысымды қалпына келтіру үшін кейде концерттер болмағанның өзінде күні бойы сөйлемеймін.
«Дауыс күтіміне ерекше мән беріп, концертке екі сағат қалғанда пайдаланбау – Димаштың керемет ән айтуына себеп...
Димаштың жетістігін әлемге әйгілі жұлдыз Джеки Чан қолдады.
Джеки Чан Димашты үйіне қонаққа шақырды, сонымен бірге жаңа фильміне ән айтып беруді өтінді. Бұл осыдан үш жыл бұрын Димаш қытайлық музыкалық бағдарламаға қатысқан кезде болатын. Димаштың дауысын естіген Джеки таңданысын жасырмай, жас орындаушыны студиясында күтті».
Димаш: Кездесу жақсы өтті, Джеки мені туған бауырындай қарсы алды, кәдесый сыйлады. Мен де, менің отбасым да оның жанкүйері болғандықтан, алғаш көргенімде қобалжығаным рас.
«Осыдан кейін Димаш Джекидің фильміне саундтрек жазып берді. Димаштың болашаққа жоспары қандай екен?»
Димаш: Өздеріңіз білетіндей, «Arnau» әлемдік турнесі COVID-19-ға байланысты өтпей қалды. Қазірде, алдымен, аяқталмаған концерттік турымды соңына жеткізгім келеді. Сонымен бірге, Жапонияның концерттері мен бірқатар телебағдарламаларында ән айтамын деп үміттенемін.
"Dimash mo nonstop! Arigato!"
※Translated by DimashTeam.