PART 2 : Case4~5
Case 4 Ms. J from UK
In November 2019, there were super excited days more than regular homegoing to Japan.
I went back to Japan from UK alone after a year last time visit…without my husband.
I was excited that the days Dimash visiting Japan and my visiting were in the same time by accident because my trip plan had already made half a year ago.
On the other hand, I lost the lottery for the tickets to ABU.

◆Thursday, November 7th
Arrived at Narita airport, and went to Saitama where my big brother lives in.
I was watching my smartphone in a train because I got jet lag.
When I checked my email and saw the news that I got the ABU tickets, it immediately woke me up.
Wooooow! What a miracle!
The happiness and gratefulness almost made me scream "Thank you, thank you!" (in the train), and felt my heart beat got higher.

During staying in my brother's home and hotel, I made badges for give away.
I told my old friends that I was in love with a young man called Dimash.
Friend 1 "Hum? Who is that?"
Me "He is a Kazakhstani….(explaining..)"
Friend 2 "Hum? Who is that?"
Me "He is a Kazakhstani….(explaining..)"
Friend 3 "Hum? Who is that?"
Me "He is a Kazakhstani….(explaining..)"
I made these conversations with friends again and again, and got their blesses (?).
◆Thursday, November 14th
I went to mon's place, Hyogo, from Yokohama.
In my mom's house, there were a couple of pieces of paper which wrote about Dimash in English.
The fact that my mom chose Dimash as the topic in her English-learning group.
It made me more excited, and I made some fans for supporting.
(I couldn't use them in NHK Hall, though..)
◆Monday, November 18th
Returned from Osaka to Tokyo and had a tea time with Japanese Dears who I had waited to meet.
Because of a fancy place, we couldn't talk too excitedly, but the very happy time with the topic "the sparkling" DImash, had past so fast, even though we met at the first time then.
It's satisfying that I could give my self-made badges to them.
◆Tuesday, November 19th
Finally, the day of ABU TV Song Festival has come!
I could meet other Dears who have only gotten know each other on internet and couldn't see in the tea party a day before.
Besides that, I luckily met a Japanese reaction YouTuber, too.
I learned about Dimash just before five months from that day.
Listened <SOS> and <Opera 2> on Chinese show on YouTube by accident. And started listening these two songs before go to bed.
Couple days later, I got into him so quickly.
Searching about DImash on YouTube, I was netsurfing to reaction videos to Dimash, and finally reached to the Japanese reaction-Dear.
He mentioned that there was Dimash Japan Fan Club.
That's why I really appreciate this guy.
I was so touched when I thought "I can talk about Dimash to someone in Japanese language".
So, I wanted to talk to him when I saw him waiting for the show in front of NHK Hall, and I even gave him my self-made badge.
He wore it and showed it on YouTube…nice guy!

Anyways, the event has started!
All artists are gorgeous and very powerful with their songs.. amazing!
However, I have been waiting Dimash somewhere in my heart.
… and…. Finally appeared the scenery of mountains and eagle, and Dimash….
Aaaaaaaaaaaaaaaah!
A Dear around me, including me, screamed… I think…
When Dimash appeared on the stage, I was extremely surprised and impressed by his  seductive aura, besides of "cool" or "fantastic".
(It might because he is tall, right?)
Mr. Murakami, the MC, was listening with gentle nodding to Dimash introducing Kazakhstan politely. It was a nice impression of him.
I was really happy that this stage was very suitable for Dimash's debuts in Japan.
Singing time!

The special song… SOS!!!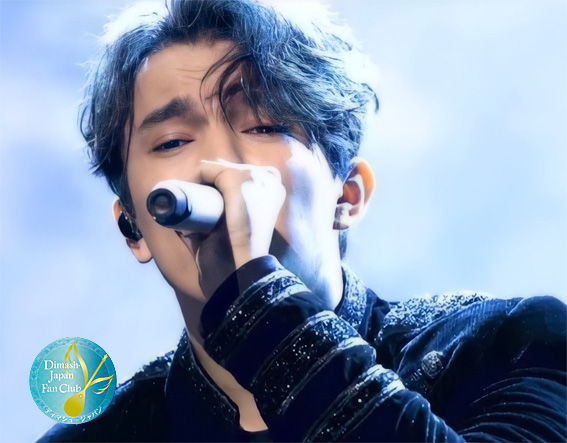 "Finally, the moment I can listen to this song in real!.....
Am I a person who deserve to listen to or not? …
No No No, think about the people who didn't win this ticket… focus in full!"
I talked to myself.
I was too excited, so I grabbed the Dear next to me.
And I noticed that I was laughing even though it's not funny at all.
It was the first experience that "people would laugh without thinking when they faced on a huge surprise".
On the stage with lightning and storm, the shout with Dimash's soul was burst.
His voice was reached to my whole body.
On the stage, it looked like Dimash was floating on clouds.. fantastic and beautiful..
The time seemed like a dream was like slow motion… like a second.
I was crying so hard… for a while… with my handkerchief on my face.
Sorry for the other artists for my behavior.. I watched your all performances later on TV)
I could feel Dimash was so powerful even through through internet, but his energy seeing in person was beyond it.
His "love wave" showered on my whole body.
Talked to other Dears, "Dimash said <ARIGATO(Thank you)> in Japanese on the last moment!" with excitement.
I felt so lucky to have mates whom I can share my feeling about Dimash.
It was too late, so we couldn't find a café to talk.
We just talked outside in cold weather for a while, and I got back to the hotel.
I spent a sleepless night for a next brave plan for going to his NY solo concert a month later.
◆Wednesday, November 20th
I went back to Osaka, and met my non-Dear friends.
It was a "Eating Tour in Osaka and Kyoto"
Even though I was an arranger of this party, I thought about DImash in ABU all that time.
I can't get over from that excitement…
In those days were dream like. 
Case 5 Ms. I

me"OMG.. his face is so tiny!"
It's in Narita airport.
Shooting somebody's back, and said to myself.. he was even in front of me…
I was like seeing him through a filter…
He is existing in this world…

Learned about DImash was in May 2019.
I have been a fan of idols of Jonny's company (Japanese famous company for boys bands).
I fell in love with his singing voice, not his face.
From that day on, I watched his videos on YouTube, and thought "I wanna know about him more".
Therefore, I got Instagram account, too.
Because I wanted to apply to DJFC member.
Unfortunately, they didn't open for application at that time.

One day, I heard that Dimash would come to Japan!
… No! it can't be true!
Yes yes.. he will come..
I am in 40's and barely go out from home..
Even I don't remember when I took a train to trip.
I don't have any clothe on going to Tokyo.
Bag? Shoes? I can't go to Tokyo with them!
How to get to Narita?
I was in a bit panic.

A Dear in Tokyo whom I got to know on Instagram gave me a lot of information for this trip.
Will I write a letter to him? Can I give it to him?
How about a present?
What to talk to him?
Can I have time to take some photos with him?
Can I hug him?
Should I bring a Kazakh flag with me?

…Only one thing, bring a Kazakh flag, was completed.. others were disappeared from my list.
But it was an unforgettable day.✨
I only can see somebody's back and security guards on the videos I shot on the day.. and hear my voice "OMG! His face is so tiny"

I couldn't get myself in any videos.

However, "it" was definitely in my heart.

He exists.
He is tall and slender.
His skin color is pale.
His eyes are shiny.
He smiled at us.
He waved to us.
He showed us he was happy to see our welcome.
 Couldn't' say anything to Dimash, but said with big smile to his dad who was walking through "Welcome to Japan!" 
Continue to Part 3.
↓Click here for Part 1 Case1~3
dimashjapanfanclubofficial.hatenablog.com
↓Click here for Part 3 Case6~7dimashjapanfanclubofficial.hatenablog.com
↓Join us!💖(facebook group)
https://www.facebook.com/groups/423438411927015
 ↓Click here for the official Dimash Japan fan club official website