PART 3 : Case6~7
Case 6 Ms. T from Europe
I first learned about Dimash in early March 2019.
My husband was watching a TV show called "The World's Best".
I was sitting in the same room watching TV unintentionally, and got surprised by the young singer with a super wide vocal range, and he could "REALLY SING"! 😳 Wonderfully! 😍
I remember that I said to my husband "Dimash has a huge vocal range, but he needs to learn English, if he wants to get famous in the whole world".
Fortunately, his name was easy to memorize, so I searched "Dimash" on the internet ... hiding from my husband, in the bathroom. 😅

I found the TWB SOS YouTube video, and watched again and again and again....
And, of course, completely fallen for this young mans talent and personality, and I was totally addicted to him. My husband did not need to know about it.😅
Watching Dimash's YouTube videos had become my daily routine, and I even checked the comments below the video clips to get informations about Dimash.
One day in mid October I found a comment saying that Dimash was going to performe at NHK ABU Song Festival in Japan.
It's only 5 weeks away!
Ooooh Myyyyy Goooood!!!

What should I do??? (I'm in Europe....)
I immediately checked my schedule.
I have to be at work on November 19th.(Tue.), the day of ABU Festival, and 18th.(Man.), the day before the show, but I'm off from work on the weekend just before and on 20th.(Wed.) and 21th.(Thu.).
Then... if I can get days off on 18th. and 19th., is it possible to go to Japan?
....................
I've got to TRY!!!
YEEES! I WILL!
It was a lottery for getting ABU tickets, and only residents in Japan could apply for that.
I asked my friends in Tokyo to apply for me.
Japan is very close to me in thoughts and spirit, but actual disrance is very far from Europe.
Besides that, I wasn't sure whether I could take days off or not.
Moreover, I haven't won the ABU ticket yet.
Furthermore, my husband and I were going on a two weeks holliday in Okinawa, Japan from the end of October to the beginning of November. It was planed long time ago.
It means...
I would have to fly back to Japan again, a week after comming home from Japan, when I've finally recovered from jet lag....
I was overwelmed by everything I had to clear.
Next day I asked my colleagues if we could change shifts, so I could go to Japan, and that was done easily. No problem at all! Thank you, God!
One step closer to Dimash!
I'VE GOT TO go to Japan!
The next challenge was how to say that to my husband.
I have a serious Dimash addiction... yet my husband was not supposed to know...(well...I've been watching Dimash's YouTube videos every single day....my husband "might" have been aware of it?😅)

Calmly(?) I said to my husband, when he was in a good mood,
"Dimash is going to Japan, so I'm gonna go there, too!"
He was stunned...needles to say.😅
Even though I didnt know the lottery result yet, I bought a plane ticket from Europe via Doha to Haneda, Japan (Qatar Airways). The ticket, that takes me to Dimash (hopefully)!
As "plan B", I also made a promise to hang out with my friends in Tokyo, in case I couldn't get the ABU ticket. Then I would need a crazy evening with good cry, good food and my good friends!😭
The day of my "Dimash" trip to Japan has finally come. (Fortunately, I had won the ABU ticket by the time.)
I had only 6 days off, it means I could only stay in Japan for 4 days.
I was concerned about the transit time in Doha. It was only one hour and 10 minuits. However I knew the airport very well as I have had several transit there before. Besides that, when I flew with Qatar Airways before, the plane arrived to the destination earlier than expected, and it happened many times. "It won't be any problem", I thought, and I was planning to attend a preparty (afternoon tea party) by DJFC the day before ABU Festival.
In fact, the plane I went on board didn't take off on time. I was waiting and waiting....worried.
Then, after 30 minutes, I heard the anouncement that explained the reasons for delay, and it ended up delaying one and half hours.

My transit time in Doha is one hour and 10 minutes... does it mean....😱
I won't be able to get on the plane to Haneda???😱😱😱
..........
No... by the time I arrived Doha, the plane to Haneda was already departed. Gone...😭
I stayed one night in Doha, and took the next plane to Haneda next day.

When we fly from Doha, Qatar to Haneda, Japan, we fly over the southern Kasakhstan.
I enjoyed the astonishing views of Kazakhstan from up above.
I could see mountains and Lake Balkhash.
I said to myself,"I WILL visit Kazakhstan one day!"
I listened to Dimash's songs on the way, imagining what would be like to see/hear Dimash live.
12 hours flight from Doha to Haneda was nothing, I just enjoyed dreaming about Dimash.
My stay in Japan was shortened to 3 days (around 50 hours), and I couldn't attend the preparty, which I was looking forward to.
On the other hand, I could see Dimash with my own eyes and hear his beautiful voice live! I also had chance to meet Japanese dears at the ABU festival.
It was an unforgettable trip for me.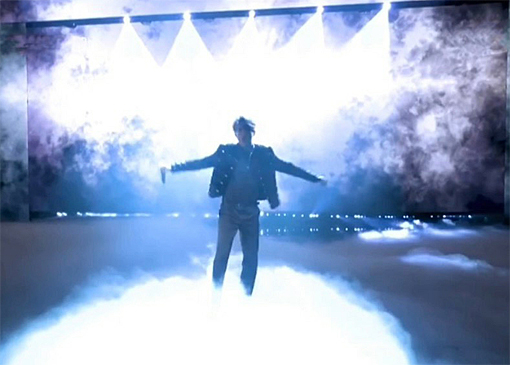 I really hope to go back to Japan again, when Dimash hold a concert in Japan.
Case 7 Ms. K

Google photo uploaded pictures I took a year ago.
I went to Narita airport wearing this scarf on THAT day.
The tears overflowed when I thought that "I can see Dimash in person soon".
My stomach was aching with nervousness.💦
I thought I would cry hard when I get to the airport...

And I went to the airport..
His flight was delayed a bit.
I was waiting for Dimash arrival with my pounding heart.

When Dimash appeared, people screamed.
Wooooow!
Really, really, really…..
Dimash is in front of us! I can't believe it.

A man walking behind us asked, "Is he a famous person?"
I said enthusiastically,
"He is a singer from Kazakhstan, Dimash Kudaibergen, 🔥the best singer in the world.🎼🎤 Please search for him on the internet".
And he said ok and took a note of his name.

After that, I stretched my arm toward him for giving presents; a stuffed bear called Kumamon, a letter to Dimash, Japanese soy sauce cookies instead of flowers, and sweets.
I don't have time to cry, toooooo desperate.
"I have to give this bag to him!!"
I followed Dimash, and walked in before him.
The next moment,
Dimash took the red bag from my hand!!
Dimash's finger touched my hand.
His finger was a bit cold.

Dimash came back to me and said "Thank you" when he took my presents on the video I watched later.
Paxmet Dimash!
My heart was pounding unstoppably.💘💘
I was sssssso excited…
This is my unforgettable memory.
END 
 ↓Click here for Part 1  Case1~3
dimashjapanfanclubofficial.hatenablog.com
 ↓Click here for Part 2  Case4~5
dimashjapanfanclubofficial.hatenablog.com 
↓Join us!💖(facebook group)
https://www.facebook.com/groups/423438411927015
 ↓Click here for the official Dimash Japan fan club official website