◆ This article is an "English transcription" of the program.
◆ The radio sound source is at the end of this article. (We are permitted ) 
↓ Mr. Kato and Ms. Yamamoto
K (Kazuji Kato): "More Music"
This broadcasting is an informational program with the music that bring you touch to your heart.
Y (Kyoko Yamamoto): We Kazuji Kato and Kyoko Yamamoto are presenting to the program.
K: Good evening, I'm Kazuji Kato.
Y: Hello, dear! "Сәлем! Здравствуйте! "
This is Kyoko Yamamoto. good evening. 
K: You're doing your best, as always.
Y: Yes, my brain already shifting into Kazakh. 
(K; awesome lol)
K: Well, what is it today?
Y: Yes… Today we have Dimash Qudaibergen for our "Pick Up Artist"
K: Well, we have him 2,3 times year now? (Y: Let's say 2 times is good.)
Y: it's getting customary event for us now. 
Even from the fans" asking us like "well, Is it about time?" 
And we are like…"Yes, it is the time"
K: Finally… I'm sorry to have kept you waiting.
Y: OK now, today's "Pick Up Artist " is Dimash.
And, "world music scene"?
K: Mexico
Y: It's been a while.
Since we'd been presenting music from South America. 
Yes, "the best hit memories" is ...
K: This is "Ms. Yamamoto's selection".
Y: Yes. It's  Simon and Garfunkel.
(K: A Hazy Shade of Winter)
It's almost winter time so I picked up with the title "winter" in it.
K: Now we are move on to "pickup artist  corner".
BGM
Screaming
Y: "More Music Pickup Artist Corner"
K: In this section, we will delve into the artists who are interested in the topic.
When Dimash is on
Y: Yes, we have this BGM. "Screaming".
K: Let me introduce you briefly.
Dimash Kudaibergen, Originally he is from  Kazakhstan, he is now a world-class singer.
He has expressing overwhelmingly wonderful with he singing.
He has the entire vocal range over 6 octaves. 
Moreover, he is a powerful singer who can freely use different characters. 
He has opera basic and devotes himself to hard rock, ballads, R & B, punk, rap, hip-hop ... and even classical(folk) music rooted in Kazakh. 
A truly a vocal monster! (It's amazing, vocal monster) It's amazing.
Y: Once you listen him, his vocal ranges of course, but not only that…you'll be overwhelmed for sure.
K: As we feel that humans can go this far! That's absolutely amazing.
… about Dimash Kudaibergen. Today, 
I've changed my mind and solicited comments from everyone on Twitter.
I would like to play three songs, give them the theme and  picked up the comments.
I would like you to talk about your passionate love for Dimash here.
The first song is "Fly Away".
Y: It's a new song.
K: It's a song released last month in September.
Let's see the comments.
Y: Yes. Fans recognize each other like Dears, but we always receive messages from a lot of them.
Ms. N:
"Thank you for your support for Dimash! FlyAway, I'm very happy to hear that you'll pick it up this new song so quickly.
Again, "More Music" is the first station who play this song in Japan!
You already recognized by Dears as a Japanese Dimash station! "
Ohh, I'm so happy (k: I'm too happy). We are called the Dimash station ♪ Thank you!
K: Next, Ms. A.
"Fly Away is a very nice song that combines a quiet and light singing style with a beautiful falsetto voice, unlike the usual powerful song of Dimash. Another thing that makes you realize the new charm of Dimash. "
Y: And Ms. S.
"I like Fly Away.
He sings in a smooth and sexy way, but the back and forth between chest voice and falsetto uses a lot of abdominal muscles, but even a little dance is included in the phrase.
After all, Dimash is amazing. "
K: That's right. This falsetto, but whisper voice… It's a whispering voice. 
On the big stage, if you just sing with a whispering voice like Dimash does, the sound doesn't go through (Yeah), so He is singing like a whisper, but in reality he is using a lot of breath. (Oh ~~!).
Therefore, probably it's more difficult than singing in full voice.
Y: I see, I see.
K: It should be pretty hard. on the big stage with that whisper voice,
He has to have a strong lung and its capacity of it.
K: And Ms.S
"Fly Away had a very fashionable stage composition, from soft singing to interludes and endings.
For some reason, that way of singing make us feel melts in an instant like we are on aphrodisiac. "
(Oh well, I understand, I understand!)
Y: And Ms.Mippi
"I think there are many people who listen to the radio while driving a car, and I think FlyAway is a perfect song listen during driving. I'm looking forward to the broadcast."
Thank you.
K: Thank you. others,
Ms.N, Ms.O, Ms.D, Ms.T, Ms.K, Ms.N, Ms.M, Ms.A, Ns.J, etc. , Many people commented.
Y: Now…Dimash, "Fly Away".
K:It was Dimash, Fly Away.
Y: It's danceable song, isn't it?
K: Next is "Daididau 2021"
Y: We've played it before.
K: I wonder if it was a live show in China.
This time, it's from the [Dimash Digital Show] in January of this year.
K: It was written in Kazakhstan around 1938 by Magzhan Zhumabayev, who was in prison as a political prisoner at the time, and was later used in theater. 
Brought Magjan the information that "Your wife is gone" during he is in prison. This made Magjan write this poem with his grief.
There is a new discovery for me today.
I've been communicating with Ms. M, who is in charge of Twitter at Dimash Japan Fan Club, since yesterday.
There is a lyrics that appears in the middle and at the end of this song, "Your face is the moon of the fourteenth night, yes, it's as beautiful as the moon."
It's also called "Juyonya" or "Jushiya" in Japanese. The moon of the 14th day.
We discussed about what is the fourteenth moon means in Kazakhstan.
So, there is an additional story today.
In Kazakhstan, the new moon is the 14th moon, just before the full moon. (Editor's Note::In Japan, the full moon is  the moon of the 15th night.)This is the new moon, and the Moon on 14th night is the most beautiful new moon.
(Editor's Note: In Kazakhstan, the moon is also a standard symbol of beauty.
The Moon up to the 14th is called the new Moon and the full moon is called the mature Moon (тол ړан ай), and the Moon after the 16th are called the old Moon. The so-called new moon and full moon in Japan are  respected as special, but there are also related as taboo customs. )
Y: Well, it's just before the full moon. In general knowledge, the "new moon" mean we can't see moon in the sky in Japan.
K: Yeah,  New moon is total darkness in the sky. (Yes Yes)
That's a completely different thing (from the Japanese).
It appears at the very end of this song (Daididau), with the chorus "Moon of the Fourteenth Night".
"Your face is the moon of the fourteenth night. Yes, it's as beautiful as the moon."-This is a very beautiful melody.
We can listen this part at end of the song, so I hope you will be attention for that part. (Yes)
(Editor's note: The phrase "Moon of the Fourteenth Night" is sung by Dimash himself at the beginning of the song. The impressive chorus in the last refrain is always included in the live arrangement.)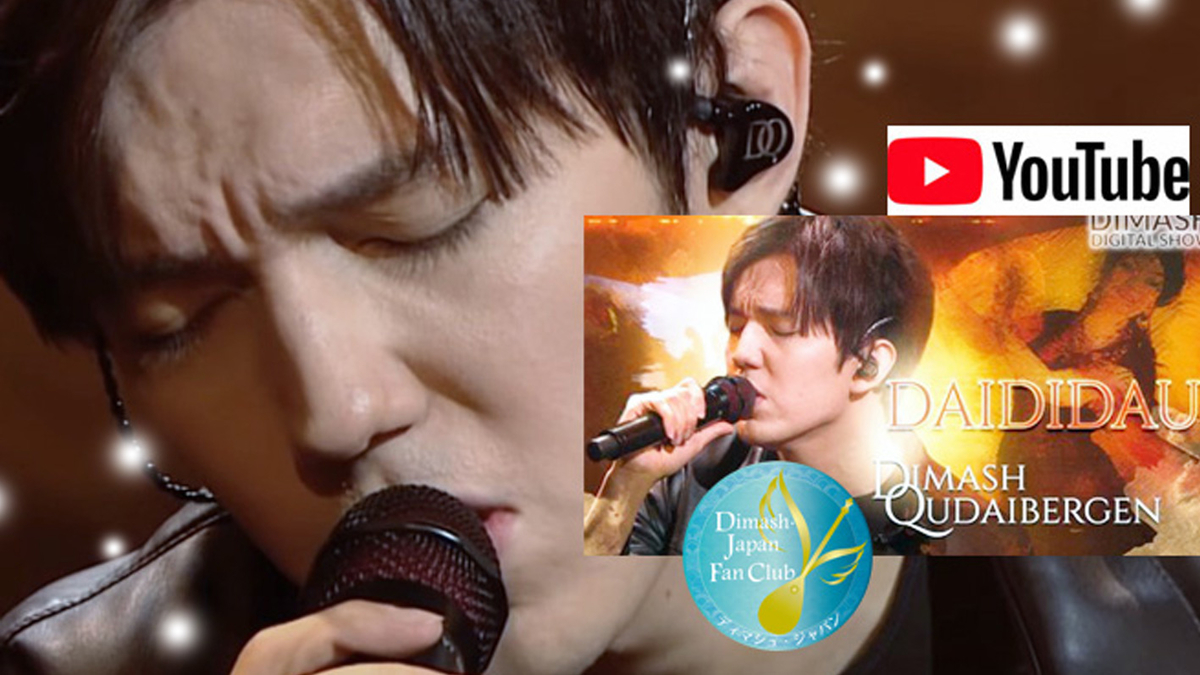 K: Yes, we have some comments.
Y:Ms. O
"Daididau 2021 was unveiled at his digital show in January, in Kazakh, surrounded by Kazakh folk instruments, emotionally sung, and impressed even if I couldn't understand the language."
K: Ms.S
"Golden and Fly Away are pop songs and the lyrics are in English. It seems that they were made with the intention of expanding into the United States.
I like the Kazakh song "Daididau" because it's more like "Dimash".
The sad song of love written by a Kazakh poet, who had been imprisoned as a political prisoner who was  heartbreaking for his wife. "
(Yes Yes)
Y: From Ms.J
"The more I listen to the various songs Dimash sings, the deeper and more memorable the songs that he sing in his own language, such as" Daididau "and" Samaltau ". I don't know Kazakh language, but when singers singing in their own languages means that the singer's feelings permeate every pieces of the lyrics and strike the listener's heart."
K: I see.
Y: That's right. When Dimash is singing in his own language with a lot of his emotions often make us tears.
K: Finally, Ms.I
"The song of the soul that continues inherited to the people as a folksong. It makes me feel like I'm sleeping in the depths of my own memories inside me .  I deeply grateful for these amazing folksongs to listen from afar in the world."
Y: After all, folk instruments are really well included.
K: That's right. Dombra, which is famous for Kazakhstan, and the stringed instrument Kobyz, were included, and especially when it came to the interlude of the middle part, it was so cool.
Y: I like this arrangement, including drums and bass, so-called modern instruments.
K: Arrangement is so good, isn't it? Wonderful.
K: Well, the time has passed in a blink of an eye (in a blink of an eye ...!). It is the last song. The third song is "Golden".
Y: Golden!
From Ms.U
"Golden was the opening song on the 2020 concert tour. Unfortunately, the tour has been postponed cause of pandemic, he had to leaving half of tour, and will going to resume next spring ♪
Golden, and this performance from online concert in January 2021, has shout effect and is even more powerful!
If you listen to this song, you will be energized. "
K: That's right.
Y: This song is pretty rock-oriented, isn't it?
K: This is already rock. (It's rock)
K: There is the official music video, and it's like a short movie (yeah, yeah), it's sci-fi.
Dimash and her partner infiltrate the headquarters of a digital fraud group and hacked in (oh). The fraudulent group's account is canceled and money is returned to the accounts of citizens who have been deceived in the past. (Yeah yeah yeah)
After that, Dimash's partner was shot and died or injured. However, there are person who can bring her back but she was kidnaped. Dimash heads back to headquarters to rescue his partner with a bunch of citizens gathering towards that headquarters.
Y: Dimash's music video is well made (it's amazing).  it's compact and ably.
K: That's right.
In additional thanks for  Ms.U,  Ms.K,  Ms.D,  Ms.I,  Ms.C,  Ms.S, Ms.N And other's comments. Thank you very much.
Then finally
Y: Dimash, "GOLDEN"
K: Yes, Dimash sent Golden last.
Y: I would like to listen it in a big venue.
K: The opening of the concert with this song is so cool (yeah ~).
K: Now, we have some informations.
Y: Yes.
・ Concert tours will begin in Belarus, Germany and the Czech Republic from April 2022 next year.
Then,
for Japanese fans
・Thursday, November 11th, there will be a special feature (10: 30-11: 15 pm) by Koji Tamaki on NHK General TV "MusicSpecial". Dimash is cover Mr. Tamaki's "Don't go" in Chinese in 2017. That is why "Dimash talks about Koji Tamaki's song." This program "Music Special" had Fujii Kaze was featured last month, and I found out thet is a pretty good program.
・ November 28, Tokyo Jazz 20th free livestream from Blue Note Tokyo
Again this year, Dimash will also appear. There will be Makoto Ozone and many other artists.
The theme of this time is "Fest to travel the world with music", There will be Makoto Ozone and many other artists. The theme of this time is "Fest to travel the world with music" 
k:Today's pick-up artist's corner was a special feature of Dimash Qudaibergen from Kazakhstan.
At the end **
K: It's time to say goodbye. 1 hour is so fast.
Y: It was. Today, the time fly so quickly.
K: When we have Dimash special feature, time has always passed so quickly as usual.
Y: What make us this feeling? (laughs)
Well, thank you very much to everyone at all Dears and Dimash Japan Fan Club for help.
↓★Sound source (We are permitted )
※歌の音源は割愛してあります。
※Please refrain from reprinting this sound source without permission.
★★★
 ↓DJFC official website